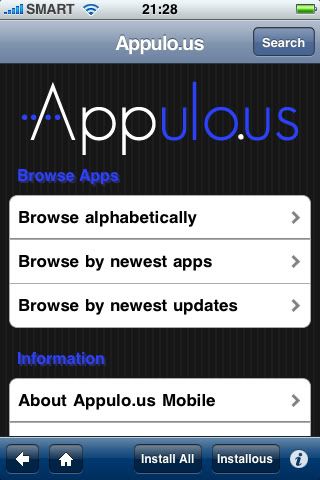 Avete aggiornato al firmware 1.3.2 con BlackRain e ora Installous non va più?
Procedete come segue:
To fix these problems, you need to do the following:
In Cydia, upgrade all essential files when prompted.
Re-install the following files in Cydia (use the search function and if not found, add the Source first):
1. Cydia Installer (Source: http://apt.saurik.com)
2. Erica Utilities (Source: http://apt.modmyi.com)
3. UUID Generator
4. Darwin CC Tools
5. unzip
6. gawk
7. Installous (Source: http://cydia.hackulo.us)
If you haven't already installed an app on your iPhone from the Apple App Store (a free app will do), install one now.
Open Installous and Download an app. Install only after downloading. Check to make sure the app is working.
To sync cracked apps to iTunes, install AppSync for OS 3.0 from Cydia. Reboot.
Fonte: http://menoob.com
———
Consiglio Personale:
Provate a entrare in SSH e a dare:
>apt-get update
>apt-get –fix-missing
>apt-get install Installous*